Guardhousesonline is a leading manufacture of Guard Houses-Guard Shacks- Guard Booths and Custom Booths. Our Booths are currently providing a safe, quality, durable, shelter solution for thousands of facilities across the United States, and world wide. We provide numerous standard designed Guard Houses or Guard Shacks to choose from. Request a Quote with shipping for our standard models. If a standard design will not work for your site, let us know, we can design and fabricate a Custom Shelter with all of your specific requirements.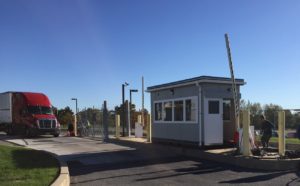 email us: info@guardhousesonline.com or call us: 856-227-0057
In need of a Guard House, Guard Shack or Security Booth Today? We stock standard model Booths ready for immediate delivery to you site. Standard Quick Ship Booths are equipped with the following features;
Aluminum construction-steel base frame
125amp interior sevice panel-cutout floor access
Interior light
Wall mount heater with fan
(1) GFCI receptacle
Counter/desktop
Sliding door with hook bolt lock
Aluminum tread floor
(1) sliding window-all glass is tempered
(4) anchor clips-(1) at each corner
Air conditioning is optional-installed on request
Drawings/Plans
Quick Ship Booths for Sale
---
Visit the Photo Gallery and view some of our recently completed projects of Standard and Custom Booths.
Photo Gallery
Planning or designing a Guard House, Guard Shack, or Guard Booth Project? We offer a complete line of Standard Booths for Sale with example drawings and specifications. We also offer numerous options and accessories to meet all your requirements. Most Standard Booths are equipped with the following features:
heavy duty Steel base frame
Built in fork pockets-reinforced
Insulated floors, walls, and roof
Aluminum tread floor
4″ wall system with exterior aluminum panels
Steel door/aluminum jamb/stainless hinges/lock/closer
Windows/double pane/tempered/double lock/LowE
EPDM rubber roof/20 year
100 amp main service panel-extra spaces
Electrical receptacle/2 or more-dependent on size of Booth
Wall heater/with fan & air conditioning-through wall
Counter/desktop
Exterior security light/above door-LED
T-grid drop ceiling with drop in light-LED
Guard Houses for Sale
Request for Quote with Shipping
---
Custom Designed Guard Houses-Guard Shacks
Our standard sizes and standard designs will not work for your project! Not a problem! We can design a Custom Booth to meet all your specific requirements.
Give us a call at 856-227-0057 or send us an email at: info@guardhousesonline.com.