Prefabricated Bullet Resistant Guard Booth
A Bullet resistant Guard Booth may be required for certain high security applications where a higher than normal threat level exists. Constructed of steel and welded at all joints, a protective outer layer is formed. Additionally, Bullet resistant windows are installed and the Booth becomes a structure that can provide significantly higher protection to your personnel than a Booth that is manufactured with standard materials. Dependent on the material thickness and quality of the steel the Booth can be manufactured to U.L. 752-Ballistic Levels or NIJ Ballistic Levels.
Another commonly used term "bullet proof Guard House" is often used to describe these structures. This term, in the industry, is not preferred as it gives the impression of a structure that can not be penetrated with a firearm. While these Booths offer a higher grade of protection, dependent on the firearm, amount of rounds, the type of bullets used, no Booth is considered to have full bullet proof capabilities.
Example Specifications-Recent Project
General: Pre-assemble building of steel construction
Dimensions: 6′ Width and 1O' Length as stated above – having a TBD nominal outside height. Interior dimension from floor to ceiling shall be 90″.
Frame Construction: Framing shall be 14 GA or heavier mechanical tube. All joints shall be MIG welded
Base/Floor: Building shall be constructed on a 4″ mechanical steel tube or 4″ x 4″ x W' steel angle frame encapsulated with a protective undercoating paint. Floor assembly shall be comprised of 1/8″ aluminum tread plate finished floor. Floor insulation is optional.
Wall Panels: Wall panels shall provide UL 752 Level (3) bullet resistant protection exterior face. Walls provided with rigid board polyisocyanurate insulation (2 3/4″ – R-18), and a 18 GA interior galvanealed face. Panels shall be MIG welded into place.
Ceiling: Interior ceiling shall be providing smooth flat interior, constructed from 20 GA, pre-finished white steel with insulation above
Roof: Exterior Roof shall be constructed using galvanized 20 GA, G-60 interlocking pan sections. Sections shall be 3″ high, varying width. Roof shall drain into full perimeter gutter system.
Windows: Fixed windows shall provide UL 752 Level (3) bullet resistant protection. Clear glazing. Glass shall be framed to building using steel/aluminum framing system with no exterior exposed fasteners
Door: 36″ sliding door shall provide UL 752 Level (3) bullet resistant protection, steel frame, top hung style with a 24″ x 36″ LITE using an overhead track and heavy duty ball bearing steel tires with steel hub. Door shall be supplied with mortise hook bolt lockset with removable core type cylinder compatible with Best core exterior and interior push lock button, heavy duty handle and aluminum threshold (steel threshold not acceptable).
Electrical:  Electrical shall be wired according to N.E.C. Standards. Load center shall be a 125 amp, Main lug type, 120/240 volt unit with 6/12 circuits. Wiring shall be within surface mounted EMT conduit, and included shall be (2) GFI protected 20 A duplex receptacle.
Lighting: Interior lighting shall be (1) 48″ T-8 dual bulb fluorescent task light located over counter and shall be controlled by wall switch.
Heat: Heating will be (1) wall mounted electric fan forced operation heater; 1500w/5120 BTU each with thermostat in an enamel coated 20 GA steel cabinet.
Counter: Full width, 24″ deep by%" white melamine work space counter. Supplied with counter top drop wire grommet(s).
Finish: Surfaces shall be painted using an epoxy/urethane prime to paint system designed to pass salt spray and freeze thaw testing. The interior finish shall be the same color as exterior. Two-tone or custom color schemes are available at an additional cost.
Foundation: Foundation is by others in the field. Recommended concrete pad size is 12″ minimum larger than building in both length and width dimensions. Pad must be level. Building is to be anchored to pad using 1/2″ diameter minimum anchor bolt, QTY-1 per anchor clip.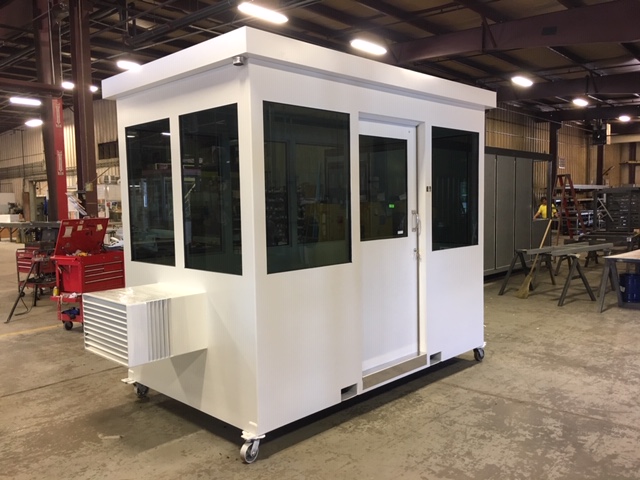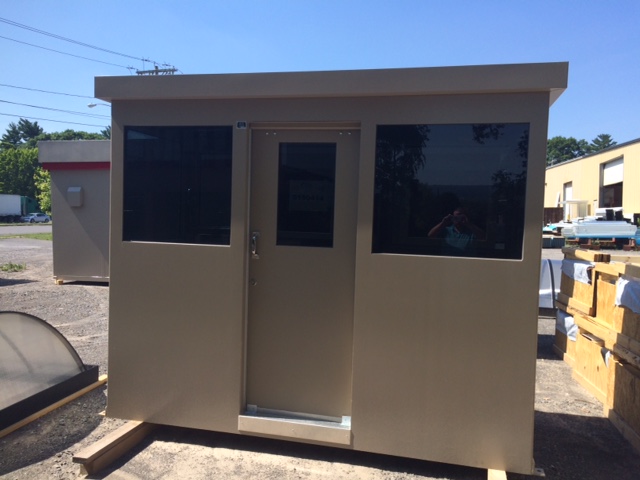 ---
Request for Quote with Shipping